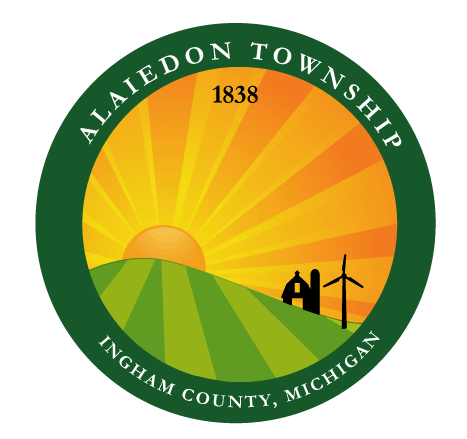 The Hill Land for Excellent Living
History of Alaiedon Township
Al-ai-ed-on
​
Henry Schoolcraft was an American geographer, geologist and ethnologist who was also known for his deep studies and respect for Native American cultures.
Schoolcraft served in the Legislature for the Michigan Territory and was stationed in Sault Ste. Marie in 1822 as a federal Indian Agent. That is where Schoolcraft met his future wife, a granddaughter of Chief Waubojeeg of the Chippewa Indian Tribe.
Schoolcraft believed that if places were named at least in-part by utilizing a Native American word before settlers moved in, the name would stay. His objective was to preserve the original languages once used to describe the land. Alaiedon is one of those words.
"AL" means "THE"
​
"AI" is an Indian word meaning "GOOD and EXCELLENT"
"ON" of Native American definition means "HILL"
​
The Chippewa Indian dictionary gives the word "AIED" as the meaning "LIVE or LIVING." Schoolcraft explained that often one letter of an Indian word, when compounded with other words, gives the interpretation of the word from which one or more letters were originally taken. Thus, "ED" taken from "AIED" would convey the meaning of "LIVING."
Therefore, Alaiedon: The hill land for excellent living.
July 13, 1787 - The second United States Congress passed the Northwest Ordinance creating the Northwest Territory. In 1805, congress created the Michigan Territory and authorized the land to be surveyed into townships.
​
1814 - Chief Okemos, who had fought with the British against the United States in the War of 1812, signs a peace treaty with Michigan's Territorial Governor, Col. Lewis Cass.
April 1815 - The Meridian line was surveyed by Benjamin Hough at 84 degrees, 22 minutes and 24 seconds west longitude at its northern terminus at Sault Ste. Marie. About that same time, Michigan's baseline, which today forms the northern border of Wayne and Washtenaw counties, was surveyed by Alexander Holmes. Although regulations governing the U.S. Public Land Survey System would later specify that the baseline should be a true parallel of latitude, this was not the case in earlier surveys, including the Michigan survey. The Meridian line marks what would eventually become the eastern border line of Alaiedon Township.
​
1827 - Musgrove Evans surveyed what would eventually become Alaiedon Township's 36 sections and reported that the land was covered with woods mainly made up of sugar maples, oak, beech, lynn and tamarack trees. Prior to 1837, the township, along with all of Ingham County was part of Dexter Township in Washtenaw County.
December 1836 - James Phillips is believed to be the first settler in Alaiedon Township. Among those following were the Strickland, Chandler, Patterson, Overacker, Carl, Leek and Lewis families. Mary Strickland was the first child born in the township on July 19, 1837.
​
January 26, 1837 - President Andrew Jackson signed legislation officially making Michigan the 26th state. Michigan, previously known as "Ojibwa" by Native Americans, means "Large Lake."
​
Also in 1837, Alaiedon Township and the west half of Ingham County was designated as Aurelius
Township.
​
Jefferson City
​
Spring 1837 - The first settlement in the township was Jefferson City located near what today is the Hagadorn/Lamb Road intersection. George Howe, J. Payne and Stevens T. Mason, platted out a village on the bank of Mud Creek and built a sawmill on the south side of the creek, east of Hagadorn Road. Stevens T. Mason named the new place Jefferson City after Thomas Jefferson. A school house was built that same year where Mary Ann Rolfe was the teacher.
February 1838 - Silas Beebe who traveled from Stockbridge to Jefferson City reported in his diary. "Upon arriving at the end of the Jefferson City Road was Jefferson City. There were six log houses, a school and 10 to 15 acres of woods all cut away ready for clearing with only an Indian trail going north. Jefferson City will un-doubtedly be a place of great importance someday, being almost the center of the county."
Mr. Beebe also stated that there is a place about 3 ½ miles south of Jefferson City of about equal claims called Mason. "A frozen up saw mill, a few houses and surrounding forests are all Mason can boast of." Concluding that Mason would never amount to much.
March 13, 1838 - The territory today known as Meridian, Delhi and Lansing Townships along with the City of Lansing were established and named Alaiedon Township.

Alaiedon Township Quickly Takes Shape
​
April 1838 - Alaiedon's first government was organized in the school house at Jefferson City. 15 total votes were cast to elect the following township officials:
Wm Lewis, Supervisor

Jacob Lewis, Clerk

James Phillips, Treasurer

James Strickland & Adam Overaker, Commissioners of Highways

William Leek & Jacob Lewis, Justices of the Peace

1839 - Wm Lewis was appointed as Postmaster
1840 - Jefferson City consisted of 13 houses and 26 students attending the school
1841 - Alaiedon Township reports 5 schools and 84 students
1842 - Meridian, Delhi and Lansing Townships and the City of Lansing were set off from Alaiedon Township leaving the territory where it exists today.
​
1843 - The Alaiedon Township Board votes to spend $150 to build a road across the "Big Swamp" located in the middle of the township.
​
1844 - Alaiedon Township reports 54 tax paying residents, and Ingham County buys 80 acres in Section 21 (Holt/Okemos Road) for the county poor farm.
1847 - Wm Leek sells a ½ acre of land north of the Leek school house for the cemetery that serves as the township's cemetery today.

A Major Township Setback
​
Summer 1847 - It was sometime after Jefferson City hosted a 4th of July celebration parade when someone discovered that the original plat drawn up by George Howe, J Payne and Stevens T. Mason (Michigan's first governor) was never recorded in Ingham County or apparently anywhere else. Consequently, the current residents of Jefferson City could not obtain a deed to their homes and property. Shortly thereafter, everyone moved away and Jefferson City Michigan was gone.
The only footprints in time left by Jefferson City include some old stone foundations along Mud Creek and the Jefferson City Road, today called Jefferson Street in downtown Mason.

The Area Moves Forward
​
1847 - Michigan's Capitol is moved from Detroit to Lansing and the Capitol building is built on land which just five years ago was designated as Alaiedon Township.
​
1857 - Agricultural College of the State of Michigan is dedicated on 677 acres on Alaiedon's northern border, land just a few years ago was also part of Alaiedon Township.
1862 - The United States Congress passes and President Lincoln signs the Land Grant Act specifically to benefit agriculture and mechanic arts. Alaiedon's northern neighbor, the State Agricultural College is designated as the Land Grant for the State of Michigan.
​
Alaiedon Also Moves Forward

1877 - Alaiedon Township leases "rent free" one quarter of one acre from the county's poor farm at the northwest corner of Holt and Okemos Roads to build the new township hall. This location would serve as the township hall location until 1959 when the present building was built at 2021 W. Holt Road.
​
​
1878 - Ingham County trades its Alaiedon Township county poor farm land to Orin J. Lewis for land he owns in Meridian Township on Dobie Road. Orin J. Lewis, grandson of the first Township Supervisor Wm Lewis, continues to lease land for the township hall "rent free."
​
1879 - Nine school districts in the township had 429 children attending. Teachers' salaries for all Alaiedon schools for that year was reported at $1,317.75.
Supervisor:


Steve Lott
​
Clerk:


David Leonard
​
Treasurer:
Scott Everett
​
Trustees:
​
Kurt Kranz



Beth Smith
​